| | |
| --- | --- |
| Name: | Mona-Lisa |
| Color: | Brown |
| Born: | 1994 |
| Race: | Deutsches Reitpferd (Vorbuch ZfdP) |
| Stick measure: | 160 cm |
| | |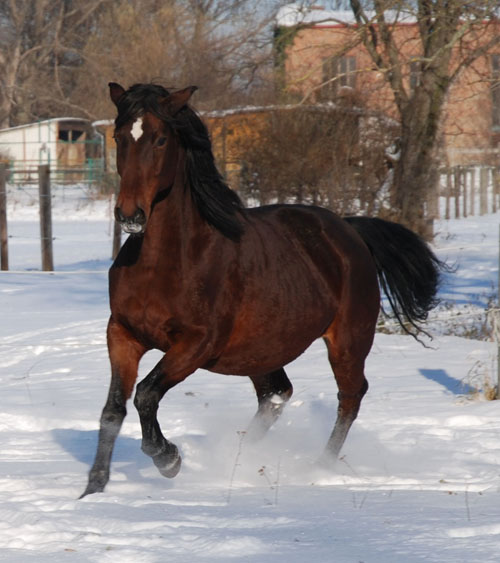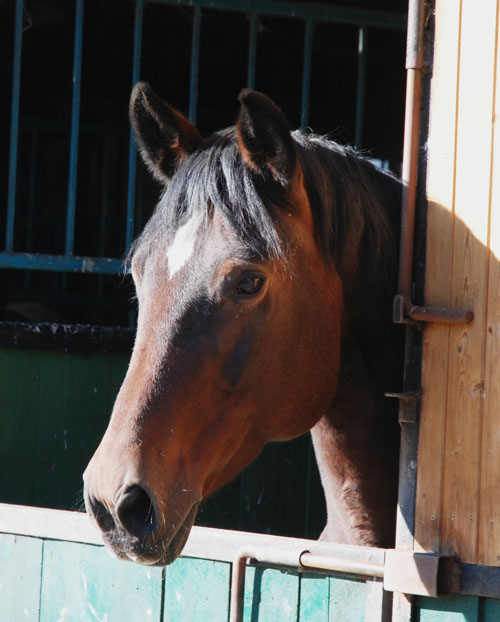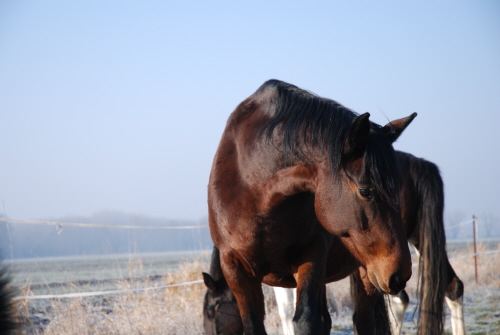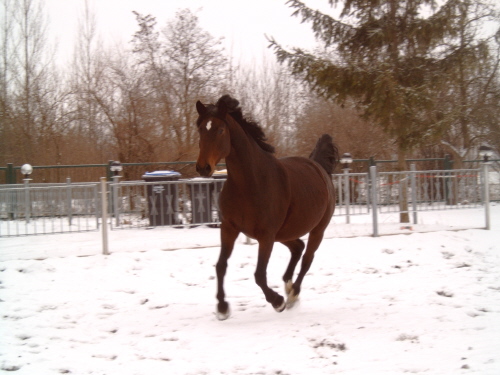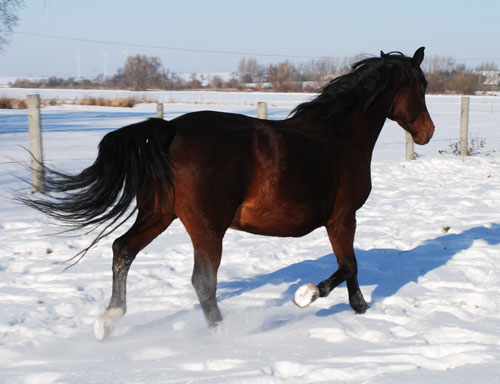 photos: Y. Cybulla

Offspring of "Mona-Lisa":
"Sisco C" (born 2003)
"Santana C" (born 2005)
"Sandro C" (born 2007)
"Suri C" (born 2010)
Would you like know more informations for the history and the descent of my broodmare "Mona Lisa"?
Mona Lisa was born in the year 1994 in Magdeburg. To this time my at that time 3-years old fox gelding "Tarik" stood there as a pension horse. I still well can remember to the moment, when the mare "Nicki" and her one day old filly "Mona Lisa" were allowed from their box for the first time. Its velvety skin beautifully shone in the sun, with its two white socks and the little white star the filly moved like a small dancer. "Mona Lisa´s" mother, the Mecklenburger warmblood mare "Nicki", had brought always very pretty, jump-talented foals, but this one in my opinion was the best of all.
At first "Mona Lisa" was very shy. I saw it growing up, visited it each day and decided to buy it after setting off and to take it together with my gelding "Tarik" to Etgersleben, where in the meantime we had acquired a nice old property with stable.
At that time I did not think about professional horse breeding, but later my "Mona Lisa" should be one of the cause for this project. It is a outstanding, seat-comfortable riding horse, much and start-strongly with much talent at the leap. "Mona Lisa" has a job as leading mare of my herd. Thereby it is very dominant, but also a very pleasant horse in daily handling. It also makes a outstanding good job as a move-careful "therapy horse ".
"Mona Lisa" comes off from the black stallion "Eldorado" (by its owner mentioned affectionately "Amigo "). This no less than 180 cm large stallion was not inspected, his father was the successful Trakehner stallion "Elkadi" from "Trafaret".
On the mothersite "Mona Lisa" goes back to a Mecklenburger warmblood mare with the name "Nicki". This sends, about 162 cm large fox mare with a narrow white blaze during a long time was a so-called "serum horse " in Bernburg. Later it came to the riding scool into Magdeburg.
Like all GDR-horses at that time, which were used for serum produktion, this mare has completely East German papers. Unfortunately after the turn these papers were isolate more discoverably. "Nicki" was very easy to ride, had a good temper and a correct figure. It was very fruitful and brought some very pretty foals in medium size, which all became outstanding good riding and driving horses.
In the year 2003 my "Mona Lisa" got its first colt of the brown white tobiano stallion "Samenco K"."Sisco C" became an unbelievably chic dark fox, which in the meantime was sold to a tournament horsewoman and is now promoted very successful in jumping. "Sisco C" is a completely special horse. I would maintain nearly, he can read and write. "Sisco C" is very intelligently, adaptive, has outstanding movement and a high jumping quality. It is thoroughly a modern sport horse.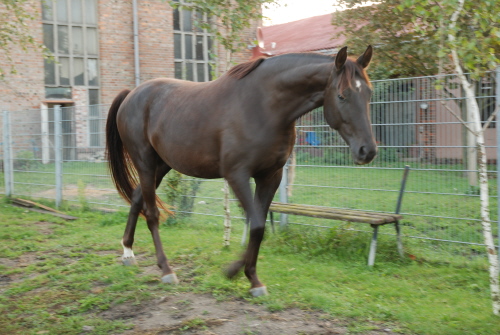 In the year 2005 was born the second foal of "Mona Lisa" and "Samenco K". "Santana C", a premium black white tobiano filly as painted gots the 6. place of all german pinto-hunter foals at the federalbreedinglook of the ZfdP. This picture-beautiful mare was sold to an internationally successful, foreign versatility stable and is there as one from two multicolored broodmares the basic stick for a new warmblood breed. In 2009 "Santana C" got its first filly from the Hannoveraner stallion "Don Ricoss" (out of the well-known line of "Donnerhall"). It is like its mother "Mona Lisa" a outstanding horse mummy with high leaving quality.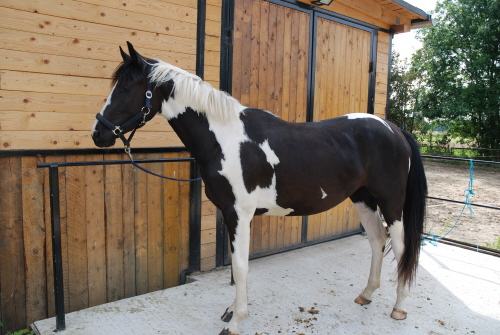 The third foal of "Mona Lisa" and "Samenco K" was born in 2007. "Sandro C" is a chic brown white tobiano colt with a half-moon on its forehead. Already few days old it - as one says so beautifully - knew "lamps withdraws ". It was sold as into the proximity of Cottbus and is drawn up there as stallion.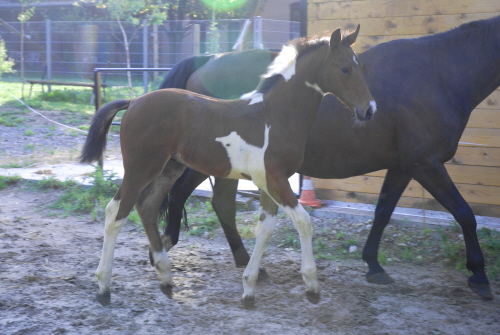 In the cover season 2009 "Mona Lisa" was inseminated of the elite stallion "Samico F", which is stationed in the land stud Dillenburg and was successful till the highest dressage class S. On Easter monday, the 05.04.2010, a wonderful brown filly with long legs and very good moovies was born.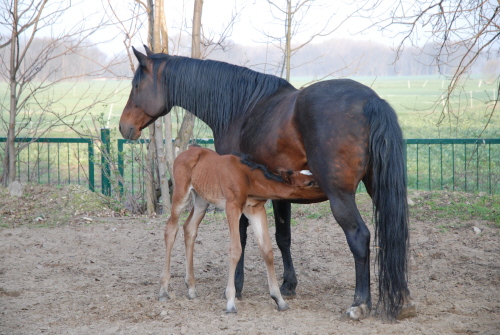 Our Mona Lisa got her 5. foal from the top stallion Samenco K (from Samber/Pericles xx/Sans Souci) in May 2012. Santa Fee C is a dark-brown white tobiano filly with long legs, a modern type, strong movements and a very kindly character. This wonderful painted filly was sold to Switzerland.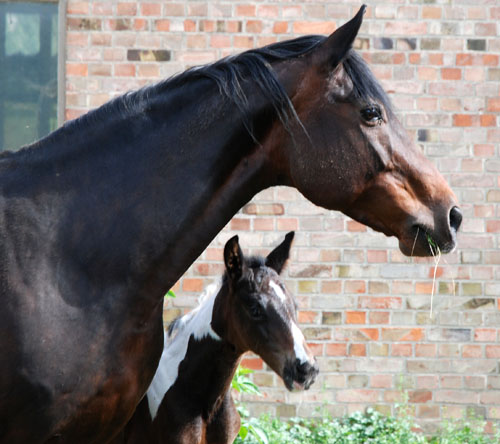 Mona Lisa and Santa Fee C
On 19.06.2016 my lovely "princess" got her 6. foal - again by her (and also my) loved coloured stallion Samenco K. It´s a wonderful gold-brown colt without white markings with the name "Shorty C".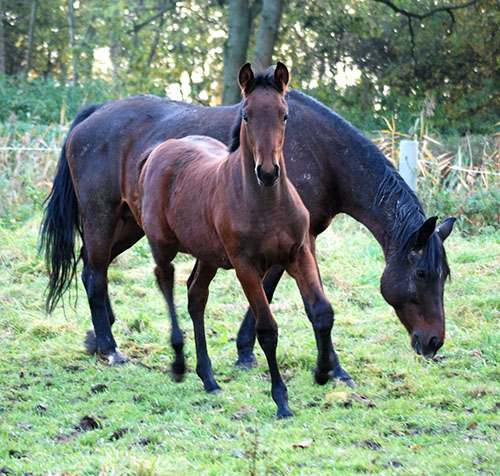 Mona Lisa and Shorty C