Our stallion Colanyc
Here you can find informations about our licenced and approved stallion Colanyc (2019 available via natural cover):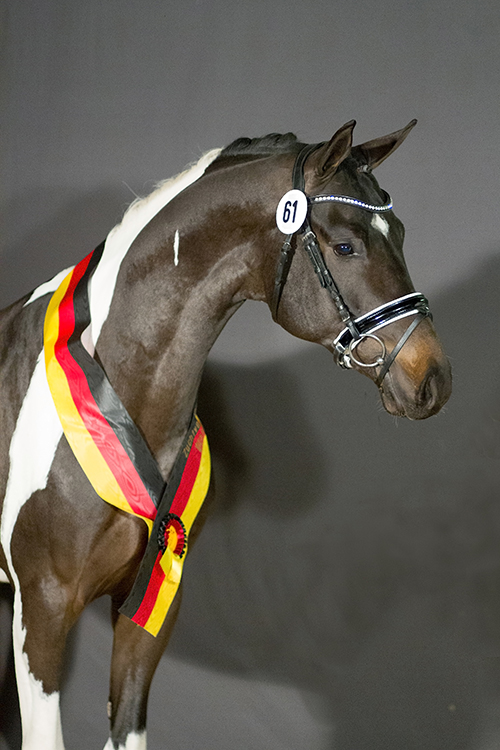 pedigree: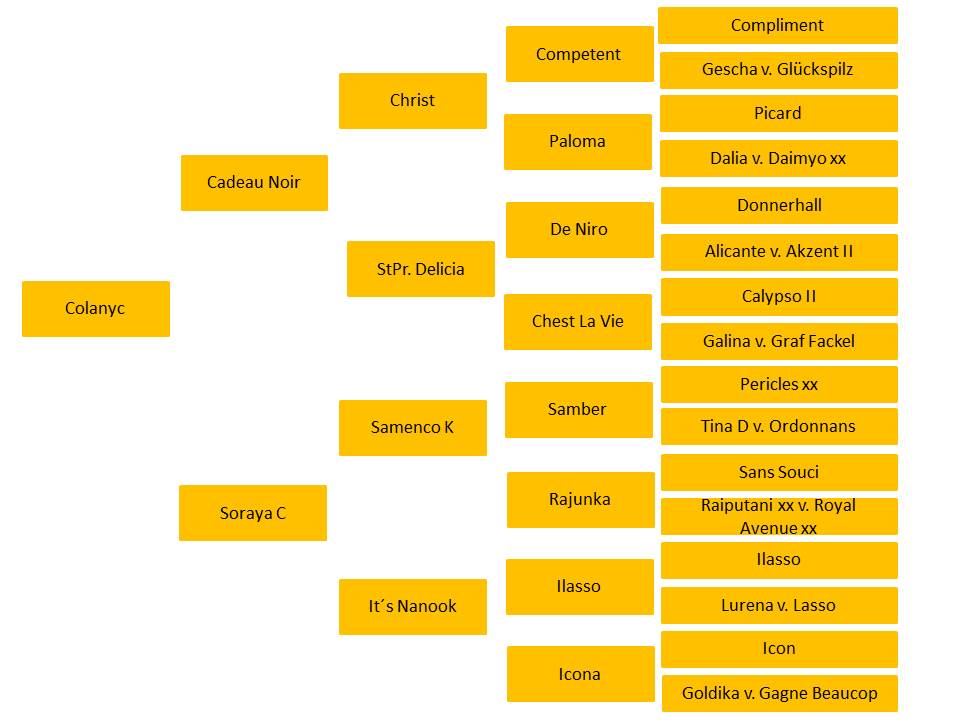 videos:
1.) Licencing Kreuth 2016 first day
2.) Licencing Kreuth 2016 free moving and free jumping
3.) Licencing Kreuth 2016 walk
4.) Video by the team Jan Crome-Sperling
Cover charges 2019 (please look at our discounts and general terms and conditions):
Please ask us for the actually conditions. Photos of some foals of Colanyc you can find deeper on this site. They all have a wonderful type, very good movements and jumping-talent, a good interieur. Most of them are premium awarded.
General terms and conditions (please click here!)
photos: Volker Hagemeister 10/2018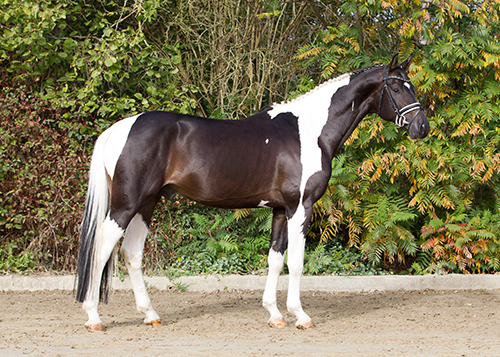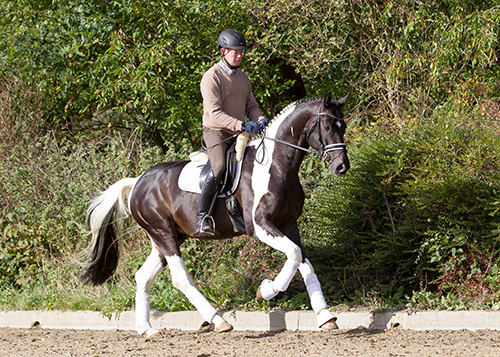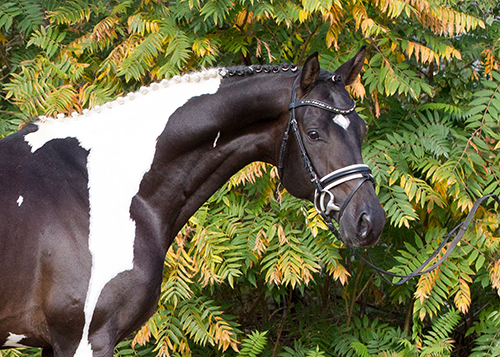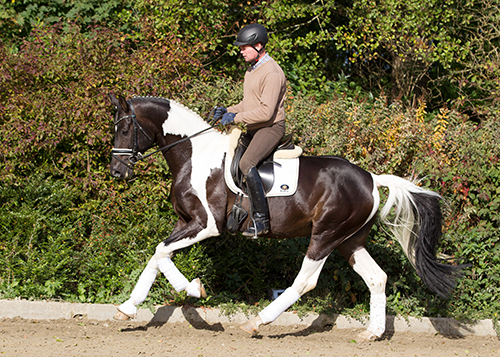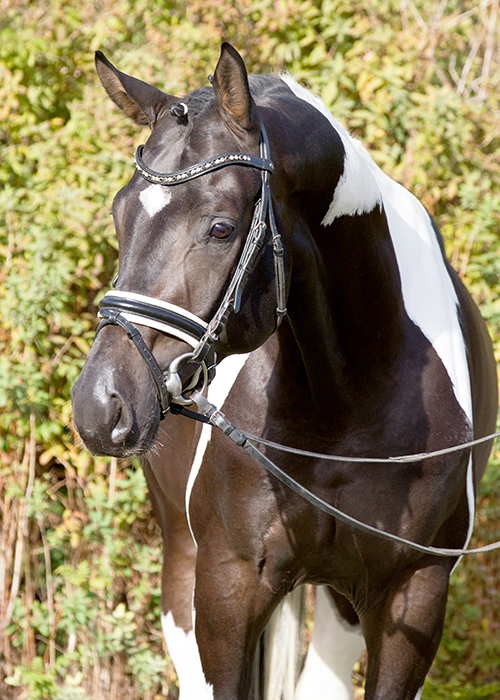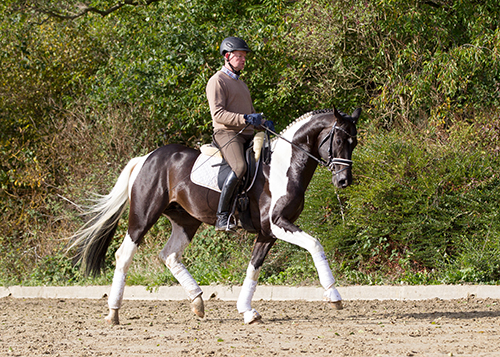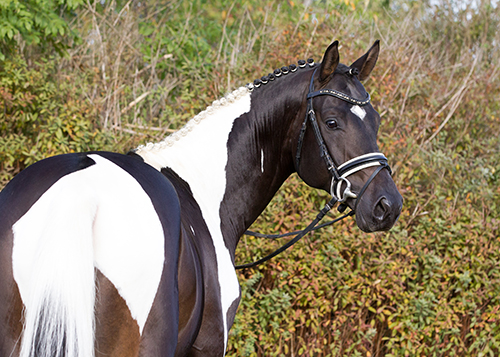 Licenced and premium awarded in Kreuth 2016 (ZfdP)!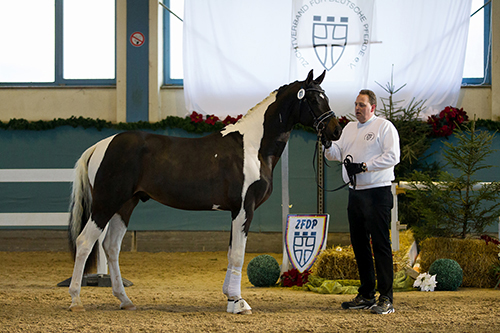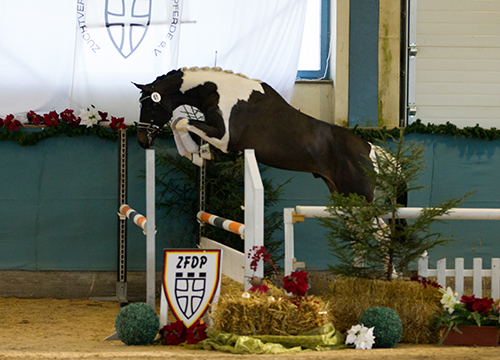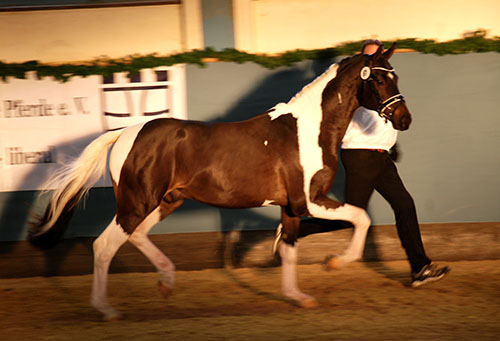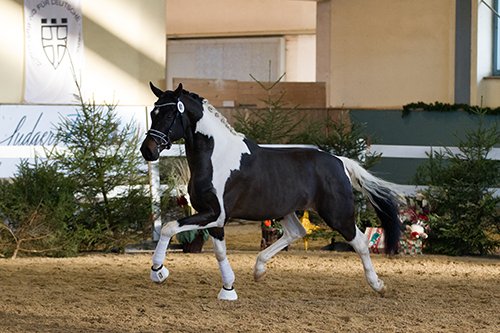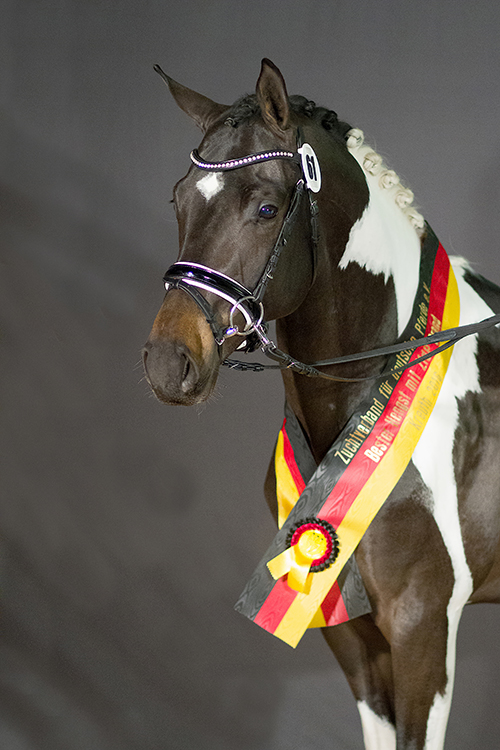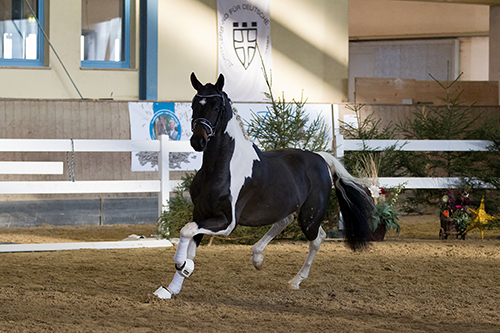 | | |
| --- | --- |
| FN-name: | Colanyc |
| colour: | brown-white tobiano |
| DNA-test: | heterozygot |
| born: | 06.05.2014 |
| race: | Deutsches Pferd (ZfdP) |
| stick measure: | 167 cm (2 1/2 years old) |
Our "designer-stallion" Colanyc was born in Etgersleben on 06.05.2014.
Very good X-Rails (class II).
After a very good prepairing from the team Jan Crome-Sperling our wonderful tobiano stallion was licenced for breeding (Deutsches Pferd ZfdP) on 10.12.2016 in Kreuth. Additional he was premium awarded, because of his very good quality - and best stallion, ZfdP-branded. What a grandious result for us!
This typeful stallion takes in a spezial way some very important uni-coloured stallion-lines (Christ/Competent, De Niro/Donnerhall, Calypso II) together with best sportblood of the coloured stallions Samenco K/Samber and Ilasso/Ico (both very successful in dressage and also in jumping). This is the answer, why our stallion has such a lot of talent for dressage and jumping too in addition with a top interieur and a lot fun to work. A correct exterieur and a lovely face with dark eyes makes this young "designer-stallion" nearly perfect.
Colanyc is available via natural cover.
Colanyc is registered in the stallionbook I of the ZfdP (Pinto) and was approved in Schlieckau in November 2018 (50-days-test for dressage-warmblood-stallions). This young stallion is a rarity in quality and colour with a end-stick-measure of approx 171 cm.
For the actually breeding-conditions and more details please contact me:
stud: 39448 Börde-Hakel Ortsteil Etgersleben (Sachsen-Anhalt, 20 km from Magdeburg)
phone: 0177/8140272 (Yvonne Cybulla)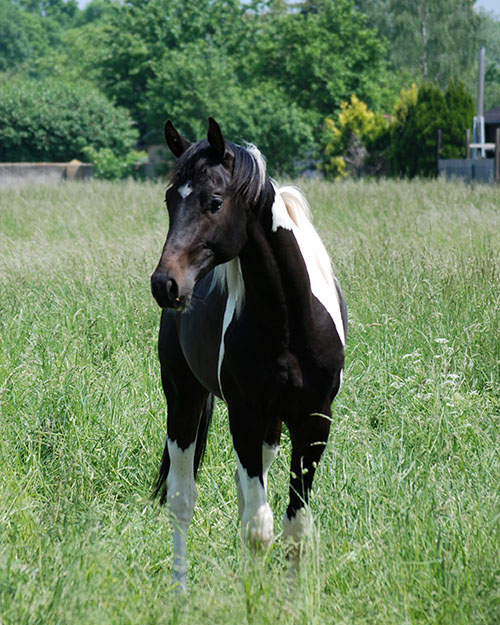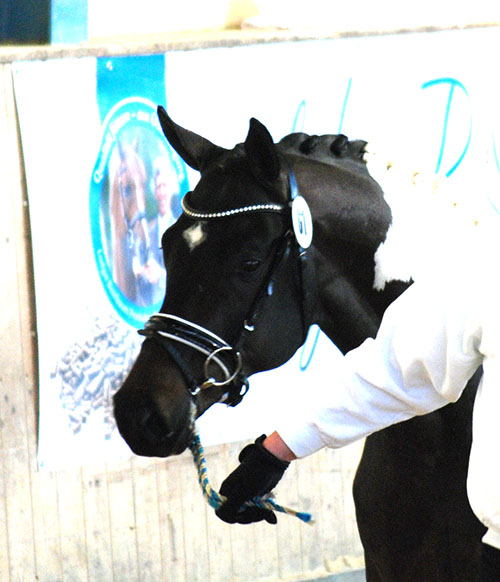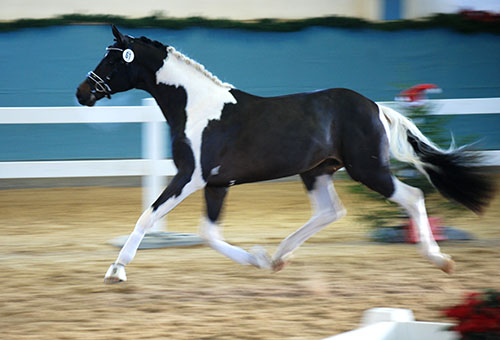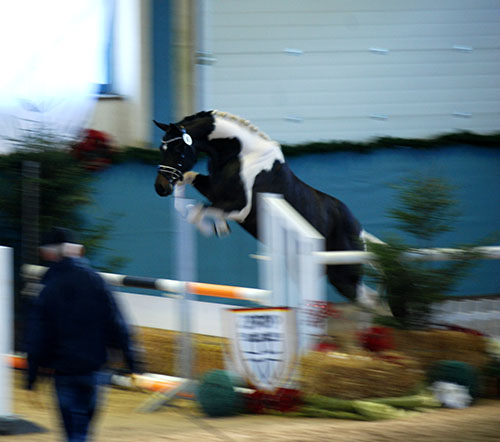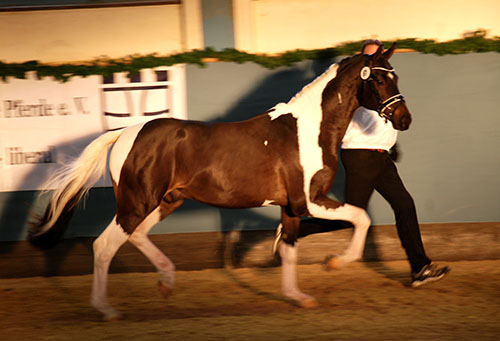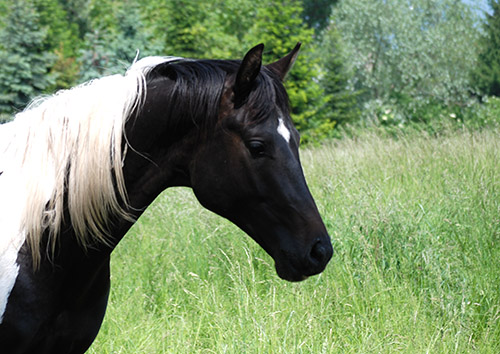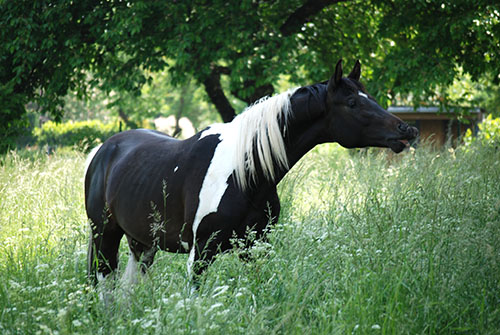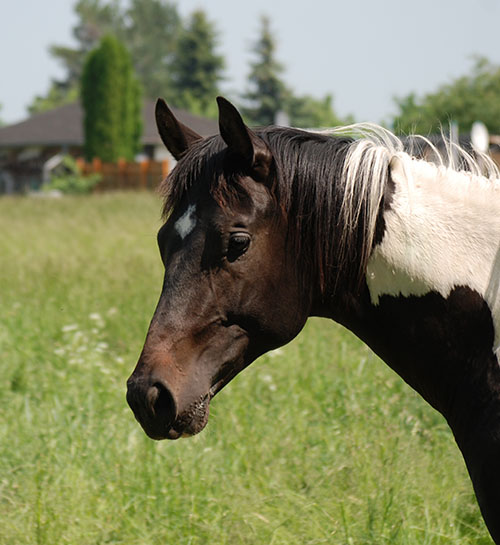 foals of Colanyc: