History
You keep a view of the history of this rare and unusual horse breeding following.

My name is Yvonne Cybulla. As a children I grow up in the country and already early my love for horses discovered. My grandparents were actively in the agriculture and in such a way I spent much time in the midst of milk herds of cattle, with which during the milking times also were associated the bottom plate horses of my grandfather. It was already certain for me - I want to get a horse. At that time I dreamed already about my own stud. That this once would become reality, I did not suspect however yet at this time.

In summer 1990 I met the owners of a small riding school and I comparatively late began to ride.

My first horse, "Tarik", I bought at the beginning of 1994. It was only scarcely 3 years old and still raw at this time. This sends, high fox gelding with two white socks, a beautiful blaze and a stick measure (today) to 178 cm was my faithful, reliable friend and companion for 17 years.

"Tarik" comes off from the brown Anglo Arab Blagier, at that time high-estimated in the GDR. Itsmother is out of the lines of the successful Mecklenburger stallion Dialog I (of Dires/Duell II/Duellant) and the Hannoveran July (of Julier). It died on 10.02.2010, bit it will be always in my heart.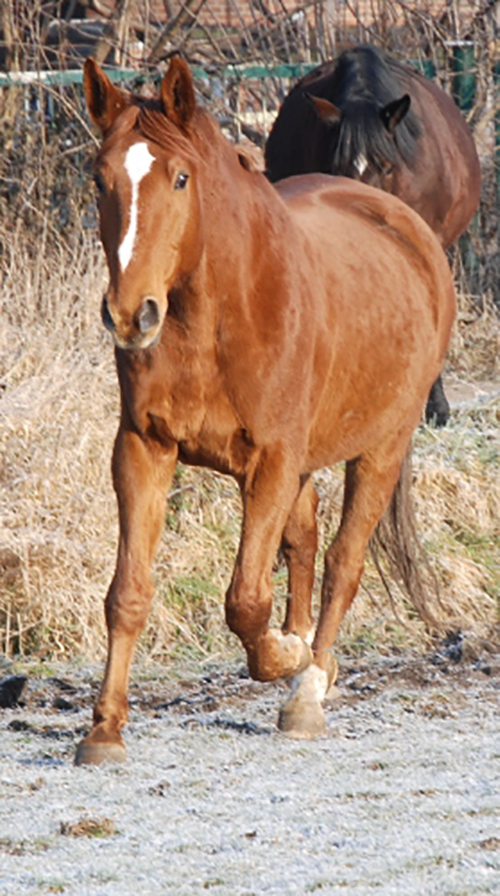 Tarik (1991-2010. photos: Y. Cybulla)

At the same time I met the achievement-examined dark-brown and white pinto stallion
"Samenco K", whose unbelievable radiant emittance impressed me deeply and fascinated me until today. This experience coined me and set an important impulse for the implementation of my dream of my own horse breeding farm.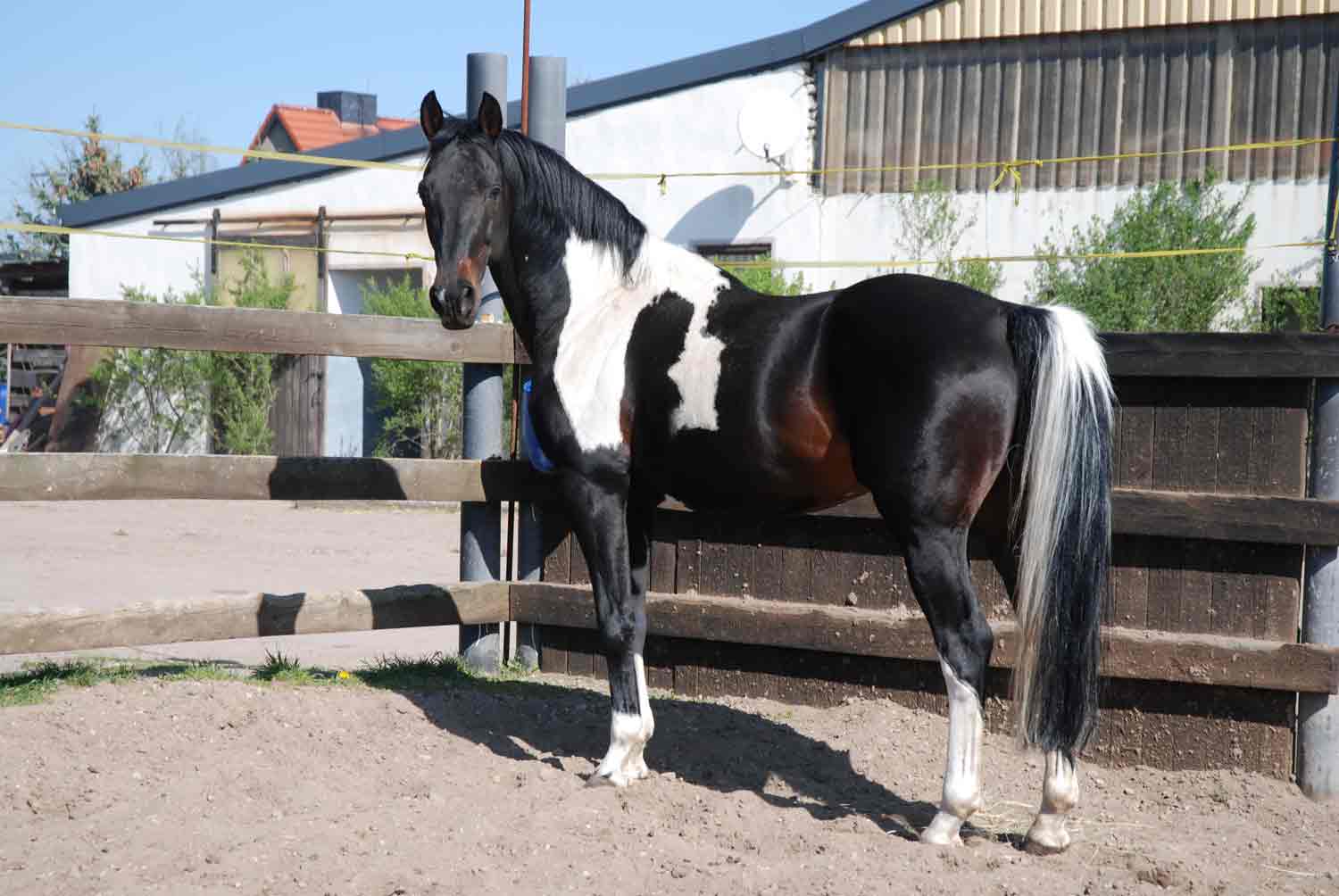 Samenco II K (photo: Y. Cybulla)

In order to be able to offer to my "Tarik" horse-fair society, I decided 1995 to buy my second horse. It should become a filly and in such a way enriched already soon "Mona-Lisa", a robust brown mare with stable foundation, dry head and large dark eyes, our life.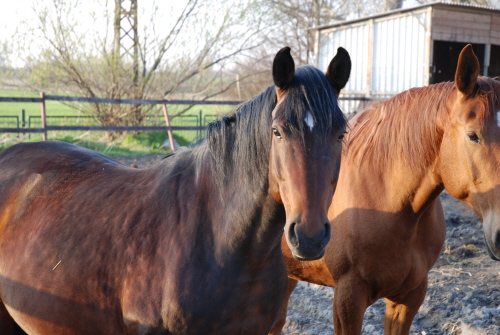 Some years later I wished myself a foal out of my already 7 years old mare. In 2002 I was searchingfor a suitable Hengst for my little lady. "Samenco II K" was never completely gone by my heart and in such a way this wonderful stallion became the father of my 1st foal. The breeding worked satisfactorily until today several times. Its descendants captivate particularly by noble optics, combat spirit, intelligence and a pleasant character.
My first foal, "Sisco C", became unfortunately no pinto, but a chic dark fox, which is reminded from day to day more of its great father and promoted in the meantime successfully sportily.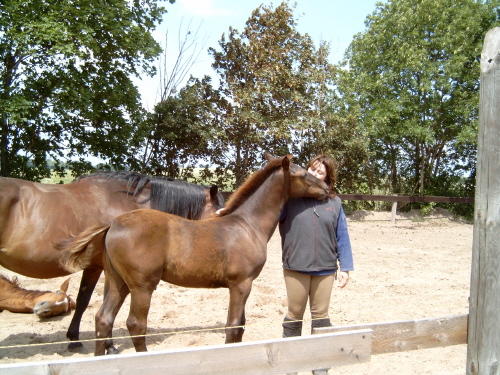 I concerned myself intensively with the color transmission. The book "Pferde aus Licht und Schatten" (horses from light and shade) set an important impulse and I decided, to ralise my dream from my own horse breeding farm.
To 15.02.2005 my agricultural supplementary income was announced.
Short time after I acquired the brown and white pinto filly "It´s Nanook" from a private breed close of the german town Koblenz. It was love at first sight! As turned out afterwards, the mare is homozygous for tobiano and guaranteed only multicolored descendants also with a insemination to an in-colored stallion.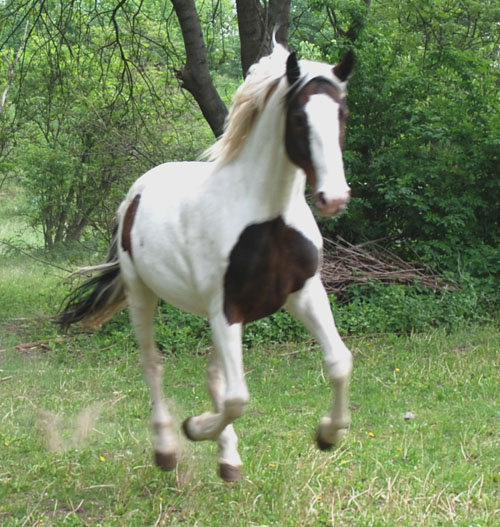 In spring 2005 my second foal, "Santana C" (black and white pinto filly of "Samenco II K"
out of our mare "Mona-Lisa"), was born. I was allowed to see their birth very closely. It is nevertheless a miracle, how life develops and I became also conscious the forces of nature, which are connected with a birth.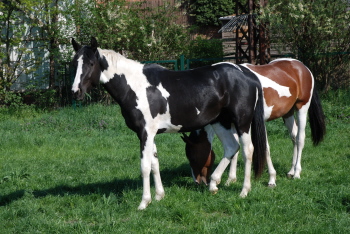 "Iamira" (premium mare/stallion mother from the "Ico"-line) I bought from a dealer in Hessen.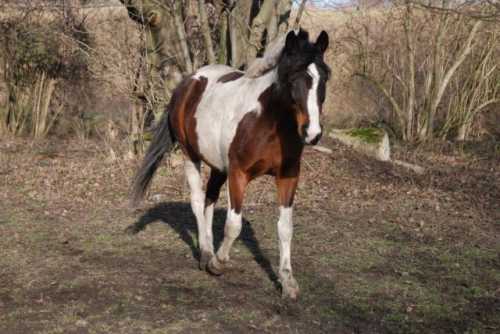 Short time after the black and white pinto mare "What´s up" (out of the successfull Trakehner-stallion "Camaro") enriched my breeding doing existence. Also this doubly assessed new generation talent is homozygous for tobiano and a jewel for the color breed.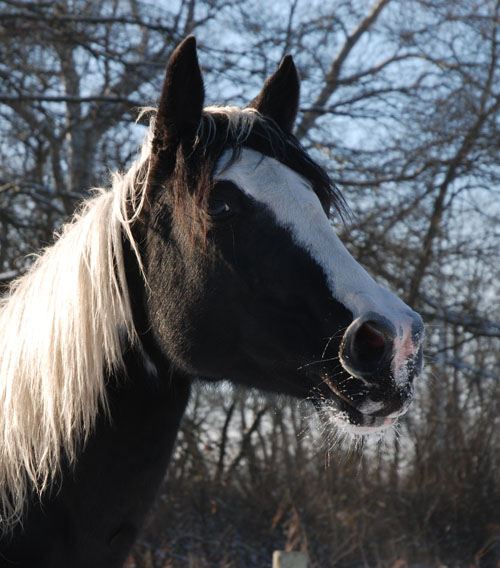 My crew was stengthened by the brown and white pinto premium filly "Shakira C" of the elite stallion "Samico F". At the age of only 3 weeks this mare convinced me by breath-taking movements and a very pleasant, love-worth character. It got late (4 years old) the title "Bundeschampioness 2009" of the ZfdP. This mare fulfilled more than my high expectations.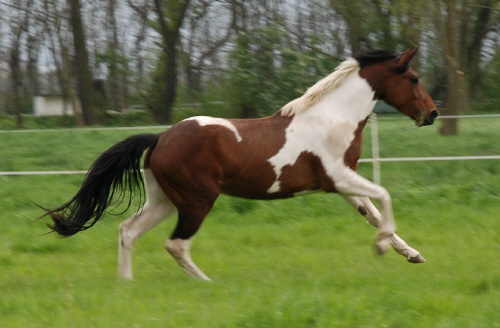 In the middle of the year 2007 I acuired the dark-brown and white Polish pinto mare "Nike" (out of the influential Polish colored Trakehner-line of "Cornelia "). This mare pulled descend-moderately completely outcross, that means, it leads neither "Samber" -, "Ico" - still to "Karabin" - blood. Regarding the avoidance desired of inbreeding this horse is to that extent a genuine alternative.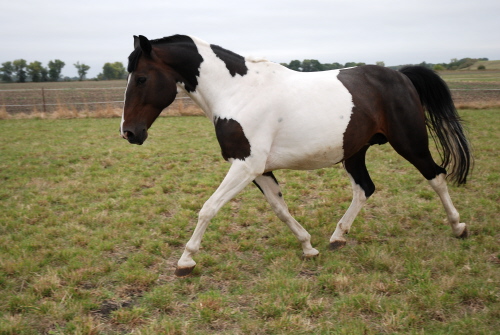 I would like to introduce my Polish pulled black and white pinto gelding "Pjetro". It presents a heavy type of warm blood, is driven successfully in four-in-hand. It is a soul
from a horse and functions here as a solid training driving horse for my young cracks.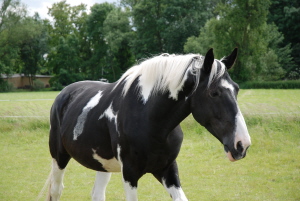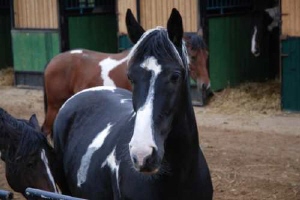 photos: Y. Cybulla
In April 2008 two wonderful multicolored premium-fillies were born on this stud. The brown and white pinto filly "Soraya C" (father: "Samenco II K", mother: premium mare "It´s Nanook") became generally accepted as winner to federalbreedinglook of the 2008 in the category pinto foals against all presented colts and fillies of the federation. She is now already a proud stallion-mother. Her mother "It´s Nanook" reserved a outstanding 3rd seat with the mare-championat of the ZfdP.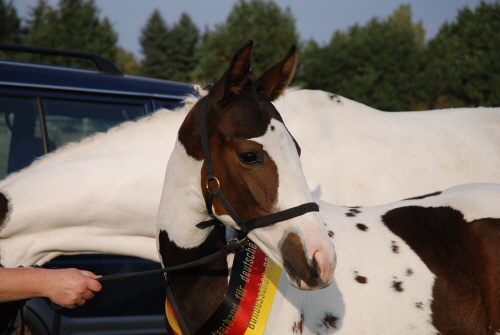 In addition, the beautifully drawn dark-brown and white pinto filly "Sissy C" (father: "Samenco II K", mother: "What´s up") shows an outstanding in- and exterieur in connection with generous movement to convince chanik and ingenious jumping gift. Sissy C is now premium mare of the ZfdP and brought us some very good foals. Her first son, Landow C (by Ludwigs As) will now prepaired in Belgium for his international jumping carrier.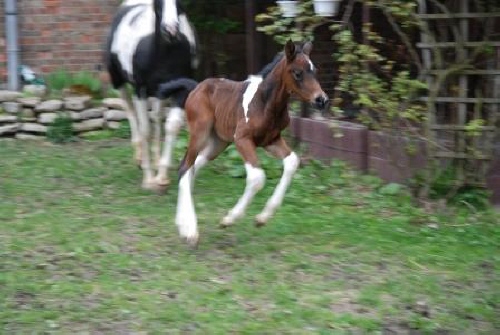 Our horses are sleeping at night in large boxes. They spend the day kind-fairly in a mixed herd in the paddock or on adjacent pasturelands. Our goal is it to integrate at short notice also at least our own multicolored stallion. We reject solitary confinement and pure box attitude in principle.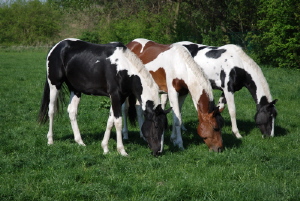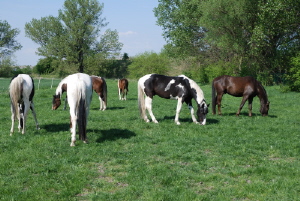 In the year 2006 we realized the building of a new stable building with 8 generously measured boxes and adjacent discharge. The execution of construction inclusive manufacture according to measure of the boxes was incumbent on thereby the Handwerkerhof Egeln.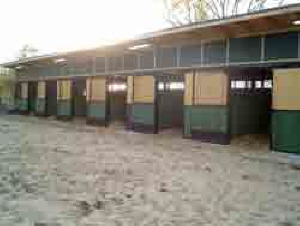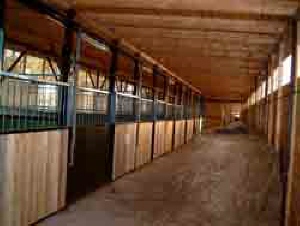 Beyond that these "boys" designed an ingenious leading plant for 4 horses, which could be taken in the year 2009 in enterprise.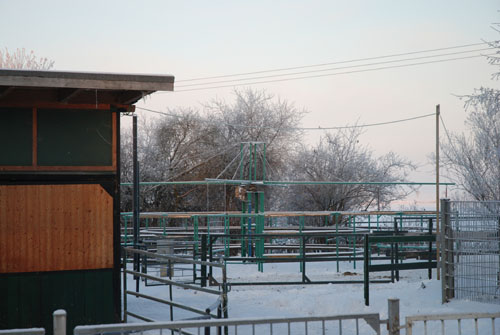 15 years later - and our breeding is very successful! I´m so proud of my fillies and colts, which are loved in Germany and also in other EU-countries. But we don´t want to stay - we will go new ways of breeding with COLOURED STALLIONS! In the years 2014-2020 we got some very talented coloured colts. This wonderful stallion prospects will grow up here to start a carriere as stallions. They got a new stable in 2016. In Dezember 2016 our first self-bred young stallion was licenced for breeding in Kreuth (Colany C, FN-name: Colanyc). He was premium awarded and best stallion with ZfdP-brand. 2018 our Classico C (FN-name: Classic Deluxe) also was licenced for breeding. One more young stallion (Caleb C) will now be prepaired for his licencing in December. We are so proud and for me a dream comes true!

__________________________________________________________________________________________________
Since 2006 we got the follow top foals:
07.07.2006: gold-brown tobiano colt "SanDiego C"
(from "Samenco II K" and the premium mare/stallion-mother "Iamira")
13.08.2006: dark-brown tobiano filly "Skyline C"
(from "Samenco II K" and the broodmare "What´s up")
19.04.2007: brown tobiano colt "Sandro C"
(from "Samenco II K" and the broodmare "Mona-Lisa")
15.04.2008: dark-brown tobiano filly "Sissy C"
(from "Samenco II K" and the broodmare "What´s up")
21.04.2008: dark-brown tobiano filly, homozygous "Soraya C"
(from "Samenco II K" and the premium mare "It´s Nanook")

05.04.2009: dark-brown tobiano filly "Silvana C"
(from "Samaii" and the broodmare "Nike")

07.05.2009: dark-brown filly "Sarah C"
(from "Samaii" and the premium mare/stallion-mother "Iamira")

05.04.2010: brown filly "Suri C"
(from "Samico F" and the broodmare "Mona Lisa")

26.04.2010: black-brown tobiano filly, homozygous "Shona C"
(from "Samaii" and the broodmare "What´s up")

29.04.2010: grey tobiano filly "Lara C"
(from "Levkoi" and the premium broodmare "It´s Nanook")

10.04.2011: dark-brown filly "Caribic C"
(from "Camaro/Trak." and the broodmare "Nike")

22.04.2011: brown tobiano filly "Briana C"
(from "Blickpunkt" and the premium broodmare "Shakira C")

08.06.2011: dark-brown filly "Cassandra C"
(from "Camaro/Trak." and our premium broodmare/stallion-mother "Iamira")
08.05.2012: dark-brown tobiano filly "Santa Fee C"
(from "Samenco K" and the broodmare "Mona Lisa")
06.05.2014: dark-brown tobiano colt "Colany C"
(from "Cadeau Noir" and our broodmare "Soraya C")
14.07.2014: black tobiano colt "Cupido C"
(from "Cadeau Noir" and the broodmare "Whats Up")
28.04.2015: dark-brown filly "Candy C"
(from "Cadeau Noir" and the broodmare "Nike")
21.05.2015: brown-white tobiano colt "Landow C"
(from "Ludwig´s As" and the broodmare "Sissy C")
27.05.2015: dark-brown-white tobiano filly "Fleur C"
(from "Finest" and the broodmare "Silvana C")
19.06.2015: gold-brown colt "Shorty C"
(from "Samenco K" and the broodmare "Mona Lisa")
28.06.2015: black-white tobiano colt "Sceltic C"
(from "Schwarzgold" and the broodmare "Shona C")
13.04.2016: brown-white tobiano filly "Siri C"
(from "Semper" and the broodmare "Caribic C")
03.05.2016: brown colt "Carat C"
(from "Camaro" and the broodmare "Shakira C")
06.05.2016: brown-white tobiano filly "Venezia C"
(from "Viva Vulkano" and the broodmare "Soraya C")
14.05.2016: black-white tobiano colt "Classico C"
(from "Cadeau Noir" and the broodmare "Briana C")
19.07.2016: black-white tobiano colt "Vajum C"
(from "Viscount" and the broodmare "What´s up")
21.06.2017: brown-white tobiano colt "Finn C"
(from "Finest" and the broodmare "Shona C")

_____________________________________________________________________________________________________
breedings 2018:
"Nike" x Colanyc => colt Caleb C (tobiano)
"Sissy C" x Colanyc => colt Cayenne C (tobiano)
"Whats up" x Colanyc => filly Ceyla C (tobiano)
"Caribic C" x Colanyc => colt Cid C (brown)
"Briana C" x Colanyc => colt Cir Royal C (tobiano)
breedings 2019:
"Shona C" x Colanyc => filly Corvette C (tobiano)
breedings 2020:
"Nike" x Classic Deluxe => filly Crissy C (tobiano)
"Sissy C" x Classic Deluxe => filly Capri C (tobiano)
"Soraya C" x Classic Deluxe => colt Cialto C (tobiano)
"Whats up" x Colanyc => colt Caprysto C (tobiano)
"Caribic C" x Colanyc => filly Celly C (brown)
"Briana C" x Colanyc => colt Cendryc C (tobiano)
"Shakira C" x Colanyc => filly Caya C (brown)